Born and raised in a southern city of Chile, I have been living in Australia since 2006. I have an innate passion for design, I love patterns and colour and have been making all different things since childhood.
My childhood was surrounded among creative people, my mother a dress maker and my father a leather craftsman. Since an early age I learned to use a sewing machine, drawing and crafting in general. I completed a University degree in Business in Chile which has always been the foundation for everything I intend.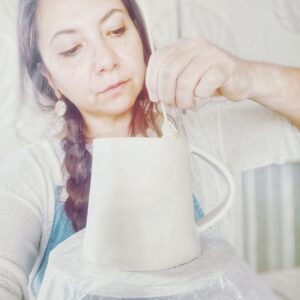 I have a passion for creating and aesthetics, combining colours, patterns and textures. So when I came across a pottery evening class in 2014, I was completely mesmerised by it all. It was an unusual feeling that I was meant to be amongst the clay. After practicing and learning different techniques with different mentors, I decided to start making pieces at home. At the beginning it was a hobby which gradually grew into a passion. I have the need of being in contact with clay almost every day, it is a medium where I can express myself and a connection to the earth.  A part of my making process I am incorporating ethically and  Eco friendly practices as much as I can. I am in constant thought of how my products can be better produced to minimize my impact on earth. Some steps taken in that direction are: my kiln is run on solar power, recycled water from the studio is used to water the garden, raw materials are sourced from Australian based businesses, this way I help to support our economy and avoid buying materials from the other side of the planet.  When it comes to packing,  recyclable, reusable and biodegradable  materials are preferred,  I also adorn the items with little dried  greenery from the forest nearby.
All my pieces are hand made in my backyard studio in Myrtleford, North East Victoria. I live with my partner, two beautiful boys and Lola the dog on a small acreage property surrounded by nature, we all enjoy the lifestyle this area offers to us as a family.
I mostly make handmade organic shaped forms and I enjoy making utilitarian pieces for your home. I hope my pottery work brings you as much joy as creating them brings to me.